Transformers
Heavy Duty Power Supply Model #NS-540LRD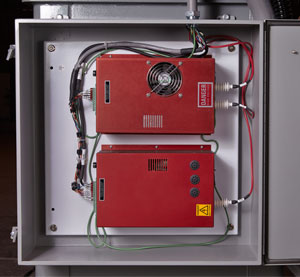 Nashville Supply is now offering a replacement power supply kit for the Ball Corporation Model MS100 & 200 Micro Sphere Waxer Hipotronics High Voltage Transformer. Our proprietary transformer is a quick fix to a common problem the aging MS100 & MS200 Waxers are facing today. This conversion kit includes a bolt on Complete High Voltage Electrical Box especially designed to fit the existing Ball Waxers includes the NS-540LRD High Voltage Transformer, electrical components, new cables and electro-wires ready for installation.
Installation assistance is available and advised. It is necessary to address what caused the original transformer to fail plus check for any alterations to the orginal factory electrical system that often occur in the maintenance process. The technician will also remove all the unnecessary old components from the existing electrical cabinet that is no longer needed and test the unit out.
The NS-540LRD Heavy Duty Power Supply Kit will also allow for the option of adding a kit to clear the electrode wires of wax in the coating chamber if desired.
I am the original manufacture of over 300 Ball Corporation MS100 & MS200 Waxers. Just as in the past when the old rectangular tranformers used on the MS100 Waxers became obsolete and the retro high voltage kit was created to use the new Hipotronics transformer. Now it is time to install this new retro kit and transformer to replace the old, now obsolete Hipotronics transformer.
**Installation is available for an additional charge.
Filament Transformer Model #NS-640FLRD
The Filament Transformer sends current through the electrode wires to eliminate from having to clean them off from wax build up.
Standard Transformer Model #NS-340SYW
High Voltage Power Supply.
Low Voltage Transformer for New Style Exhaust Filer Model #NS-240SBK